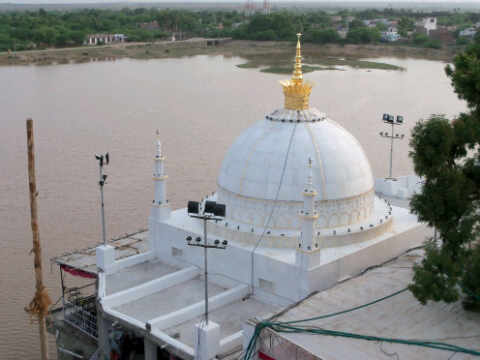 Sarwar Sharif (Son of Khwaja Sahib)
Marriage & Children
 The childhood of Khwaja Gharib Nawaz (R.A) was full of miseries and hardships. He spent his youth in search of knowledge and truth. At the age of about 50 years, when he has almost settled in Ajmer and the preaching services were on the top, he dreamt Prophet Mohammed (S.A.W) who said," O Moinuddin! You have been very active in obeying Allah's orders but why didn't you follow my sunnah.". Thus , Khwaja Gharib Nawaz (R.A) made two marriages, one after another.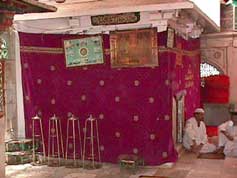 The Mazar of Bibi Hafiz Jamal, daughter of Khwaja Sahib, is situated to the south of the Shrine. There is a small dome with a kalas on top of it. The doors of this tomb are plated with silver.

CHILDRENS   on of Khwaja Saheb at Sarwar Sharif Dargah Urs,  Sarwar Sharif Dargah Urs ,    Rajasthan,   Dargah Sarwar Sharif,  Ajmer India
 1. Hazrat Khwaja Fakhruddin Chishty (R.A) Dargah of Hazrat Khwaja Fakhruddin Chishti
He was the eldest son of Khwaja Gharib Nawaz (R.A) he was a great saint and a scholar as well, he died in Sarwar town some 40 miles away from Ajmer, his URS is celebrated on the 6th of shaban every year with great Favour.

 2. Hazrat Khwaja Hissamuddin Chishti  (R.A)

He was the 2nd son and was also a great saint as well, he possed the quality of salvation, he made tough excessive for self-purification at the age of 45, he disappeared from the human eyes and joined religious fraternity.

 3. Hazart Khwaja Ziauddin Abu Sayed (R.A)

He was the youngest son of Khwaja Gharib Nawaz(R.A) his mazar-e-mubarak is in the premise of the shrine.

 4. Hazrat Bibi Hafiza Jamal (R.A)

She was the only daughter of Huzoor Gharib Nawaz (R.A) she was of great religious personality. she guided thousand of women to the righteous path. her mazar-e-mubarak is located just near the mazar of Huzoor Gharib Nawaz (R.A).